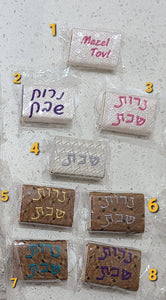 Brand New Small Match Box Cover for Bat Mitzvah, Jewish Wedding, Party Favors, Havdalah Service
Brand New Elegant small Matchbox Cover for Bat Mitzvah, Wedding, Havdalah Services Favors
Has Mazel Tov, candles for Shabbat or Shabbat embroidered textured faux leather
Each small Matchbox Cover has already small Matchbox inside and come with clear giftwarped plastic for easy gifting.
**See picture to pick style as shown and choose 1 style below
** 1 individual small matched box will be sent
Perfect gift/Party favor for Bat Mitzvah, Havdalah Party, Wedding Favors or Shabbat gift.
Slide any small standard into Matchbox into the Cover. Size is approx 1.5 inch
wide
1 small Matchbox cover.
**All sales are final onced purchased